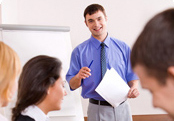 Testimonials
"The expertise of JLR Consulting provided my customer with the information they needed to make an informed decision regarding D&E's Transparent LAN Service for point-to-point connectivity of two office locations, as well as Metro Ethernet Dedicated Internet Access. JLR's consultative approach compliments D&E's reputation as a trusted advisor. I would recommend JLR Consulting to any business with a need for unbiased bandwidth testing or network analysis."

Mark Lerario
Account Executive
D&E Communications
Birdsboro, PA
"JLR Consulting has always provided outstanding service to the Great Valley School District. Our recent migration to Microsoft Exchange server was expertly researched, planned and implemented. No matter how large or small the scope of the project -- network upgrades, security or migration, JLR Consulting provides cost effective solutions for K-12 education."

Kay A. Yeakel
Director of Technology
Great Valley School District
"After investing significant money and resources in a new enterprise software system, we discovered that our new system was not performing at the desired levels. When no one could explain the decreased functionality in the new system, JLR Consulting was recommended to us because of its consultants' common sense, knowledgeable and thorough approach to difficult software and hardware issues. JLR Consulting worked quickly to review the problems, and subsequently advised our company on key equipment upgrades and other network solutions. JLR Consulting further investigated and negotiated on our company's behalf the installation of a new Metro Ethernet service for our facilities. Through JLR Consulting's timely and cost-effective efforts, our company finally achieved the desired functionality and efficiency. In addition, we can now boast a well-tuned and stable network environment. JLR Consulting has proven to be a consistent, dependable and experienced resource for all of our company's IT needs."

Donna Monper
General Counsel/VP
Manning Management Corp.
"Berks Western Telecom, Inc. has been working with JLR Consulting for more than eight years. Experience has shown JLR to be both a responsive and knowledgeable communications consultant for large and small businesses. It is commendable that no matter the size of a job, they are all approached by JLR Consulting with the same degree of professionalism. In today's marketplace it is the greatest asset to have a communications company that is dependable yet affordable."
Deana Reedy
Vice President
Berks Western Telecom, Inc.
"Consolidated Engineers has teamed with JLR Consulting on two major projects for the Sovereign Bank. These include 'The Sovereign Plaza' and 'Corporate Data Center Relocation'. They were the lead consultant for the design and implementation of the entire data infrastructure of the facilities. JLR consulting always went the 'extra mile' on these projects. They not only do a flawless job with their required tasks, they also do a great job of coordination and verification of all other responsibilities associated with the data infrastructure. JLR is always informed and on the cutting edge of technology. CE is always happy to have JLR Consulting on our design team."

Frank Bisaccia
Principal
Consolidated Engineers