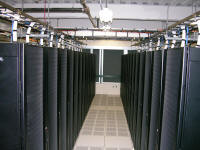 Success Stories
Sovereign Bank, Reading PA
Computer room relocation.
Design, budgeted, implemented and managed the migration of Sovereign's primary data center to a new location while maintaining maximum access to all business systems and minimizing the outage windows required to complete the migration. The effort involved 3 months of planning, 4 months of construction and 3 migration weekends to transfer power, communications and all computer room equipment.
Project highlights:
Design of new computer room
Migration planning of services from the existing to the new computer room
Maintaining connectivity between the old and new computer rooms to stage migration effort
Inventory of all existing server and communication links
Coordination of: engineering design planning; communication service moves; data cabling; device moves; construction contractors; HVAC contractors
Coordination of integration of environment control systems
Coordination of integration of security systems
Planning and support for personnel moves
Management of all contractors
Decommission of old data center and return the space for office use

| | |
| --- | --- |
| Environmental system | Equipment delivery |
| Power conduit installation | Cable tray installation |
| Computer room | Data cabling |